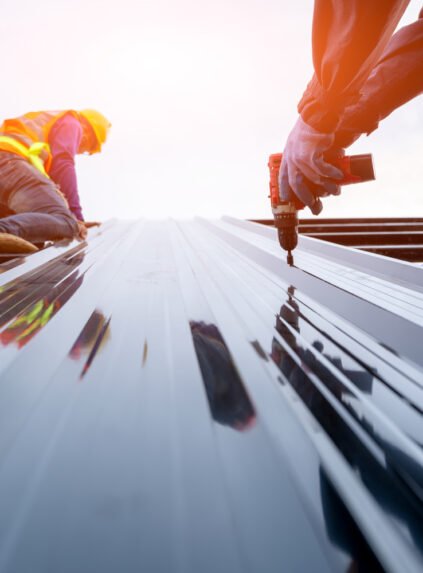 If you are looking for a new roof solution that delivers impressive protection on suburban and commercial buildings alike, then metal roofs are the material you can count on. This roofing material can sometimes provide you with lower insurance rates thanks to how effectively it protects against wind, fire, and even hail. Metal roofs also don't leave you with few options, as you can purchase metal roofing in an extensive variety of colors as well as styles. If you are interested in learning more about your choices for metal roof installation in Dallas, TX, rely on the contractors at The Roof Guyz. Contact us at +1 817 487 7847 now to begin, or to ask one of our qualified roofers for an estimate.
While there are many kinds of metal roofing to pick from, all of them offer a fairly level amount of resilient protection. However, damages can happen through a few circumstances, and when they do, fast repairs are the ideal course of action. Metal roof repair is not required very often, though, and when it is, the repairs are typically quick and easy to take care of. Truly, most of the time metal roof repair is solely needed for roofs that were installed improperly, so to skip the need for repairs, you should make sure your metal roof installation is done by contractors with plenty of experience.
The overall look of a metal roof is commonly the top worry for our clients who are home and business owners. There are some of our clients that desire to have that modernized look that comes with metal roofing, but on the contrary, some just want the traditional appearance. Conveniently, a special type of metal roofing called stone coated steel roofing is available and this roofing solution is very popular for residential metal roofs.
With metal roofing, you can expect extensive life expectancy, wind resistance, and an array of colors and styles to fit exactly what you're looking for. But when it comes to stone coated metal, you can have all of these benefits while having the appearance of traditional shingles or tiles. We are able to match nearly any conventional style of roofing with specialized methods of stone chip application on top of the metal roofing material.
It should not come as a surprise that a prime roofing material such as this comes with a considerable price tag, initially. But remember, the stone coated steel can easily pay for itself with all of the extra benefits that come with it. You don't have to worry about having to spend additional money on regular maintenance or repairs, as you would with a normal roofing system. These savings are a standard perk, along with all the money you'll end up saving on your heating and cooling.
If you are interested in getting stone coated steel metal roofing in Dallas, TX, call American Pride Roofing today at 1 817 487 7847
Metal roofing was at first a commercial roofing material, but currently there are a range of choices for citizens to choose from for their home roofs. Such a variety of metal roofing shingles means that you will be able to pick out the perfect roof for your home.
Metal shingle roofing can raise your home's energy efficiency, lasts quite a long long time, and is incredibly durable. Metal roof shingles also are one of the most prominent metal roofing materials, because they provide a sleek, modern option for a traditional roofing style. One such option is the metal shake roof, which provides the aesthetic of a wood shake roof, but is more durable and long-lasting. The price of installing these roofing products is about equal, but metal shingles provide fire resistance and low maintenance. The Roof Guyz carries a variety of additional metal shingle options, including slate metal roofing and metal roofing tiles.
For homeowners who desire the aesthetic of a slate roof, slate metal roofing is a lightweight, less expensive option. Whatever the style of metal roofing shingles you are looking for, we are here to help you choose the ideal roof! We can offer you all the knowledge that you need and show you all the varieties of metal roofing shingle options we have available. If you desire to experience the difference of a professional contractor, call The Roof Guyz.
Aluminum roofing isn't affected by corrosion and is thought to be as strong a roofing product as copper and zinc. Due to its resistance to corrosion, aluminum roofing is often installed in locations that have higher levels of acidic rain. The metal alloys used to create aluminum roofing are easy to form and can be customized to varying roof shapes. While aluminum itself won't corrode, its shine can fade, and so aluminum roof systems usually need to be coated following installation. An aluminum roof is also uncommonly light. If the time comes to fix an aluminum roof, the task is generally a very easy, painless process.
At The Roof Guyz, we provide many kinds of roofing, including metal roofing. As local roofers, we're very experienced in providing metal roof repair as well as installation services to houses and businesses in our community. Metal roof systems are perfect for protecting as effectively as classic clay tile and can endure decades longer than a traditional shingle roof. When you need metal roof installation in Dallas, TX, we can provide you with fantastic options like metal shingles, standing seam, and so many more!Get started today by contacting our roof professionals at +1 817 487 7847 , and ask how we can help you find the metal roofing you want!